Why you should do a Climbing course in Siurana
Rock climbing is one of the most satisfying and natural things you can do as a sport. The rocks around Siurana offer more than 1000 routes for every level. There are as many world-famous hard routes as there are easy routes. In one week of coaching we will teach you how to climb safely on the rocks and give you an introduction into the local scenery. You don´t have to learn climbing in an indoor gym when you can combine a climbing course with an unforgettable holiday in Spain.
Accommodation - Climbing Siurana
Find the perfect accommodation for you!
You get as much coaching as you want. By the end of the course there should be no questions left unanswered. We want you to be confident in what you have learned here with us.
By the end of the week you will get a booklet which contains all the knowledge you have learnt in the course.
Climbing Siurana provides you with all the climbing equipment you need for the course(harness, helmets, ropes etc.), except for climbing shoes. Shoes can be rented in the local climbing shop for 4 € a day.
All the transportation cost from the accommodation to the rock and back is included. Furthermore we offer a free shuttle transfer from Reus or Tarragona to Siurana when you arrive and when you leave.
We will make nice climbing pictures of you and the group. By the end of the course you can take these with you as a souvenir.
Your traveling costs are not included. But we offer a shuttle service from Barcelona Airport to Siurana for additional 60 €
The accommodation has to be booked additionally. You can choose between cheaper options like camping and more expensive options like an appartement.
You have to bring your own Climbing shoes or rent them here for 4€ a day.
Food is not included in the price. There is the option to go shopping together on your arrival day. There are many shops and restaurant in Cornudella de Montsant and Siurana where you can get your meals.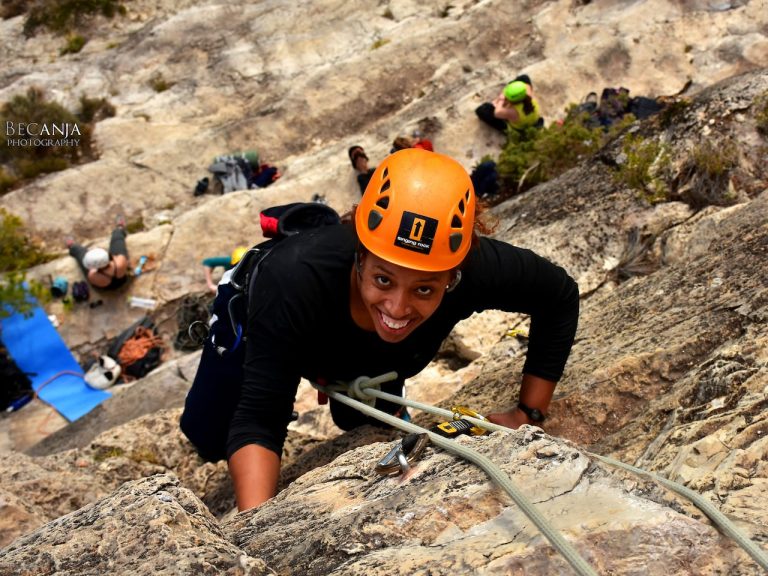 Welcoming and getting to know the group
Learn about Climbing equipment
learn and practise knots
building up trust in the rope and the Belayer
first steps on the rock

 
efficient climbing for Beginners - how to move on the rocks
possibilities and risks of rock climbing
introduction into belaying
how to clean a route - on the ground (practise)
get to know different types of rock
Foot technique - How to use your legs
Setting up a Top rope
belay a Top rope climber
Top rope falling
how to clean a route - at the anchor

Repetition of the learned techniques
Live demonstration with the Coach
Booking - Course
Reserve now a place in this course